AUDITIONS
All roles are open to anyone in the community,
and no experience is necessary to audition.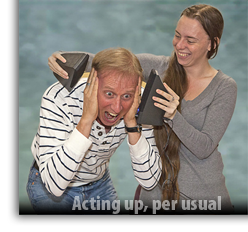 Audition Process:
Auditions are traditionally held on two dates, When necessary, a call back date will follow. Appointments are usually not required, you'll get signed in when you arrive. Please check each play's specific audition notes carefully.
Auditions are held in the lounge or in the
performance hall.
Approximate age ranges of the characters will usually be listed, but it's always a good idea to check out the script so you can get a feel for the characters.
All audition material is provided and will be available at the auditions.
Generally, you will be asked to read pages from the script in front
of the director, the stage manager, and another reader.
You may download this fillable/saveable audition form to prepare
ahead of time: SLP Audition Form
2021 AUDITIONS
St. Luke's Players held on-line auditions for the Zoom performance of a new thriller:
Shift

. Many thanks to all those awesome people who zoomed in and gave it a shot. The play has been cast, but don't let that stop you from coming back to try again sometime.